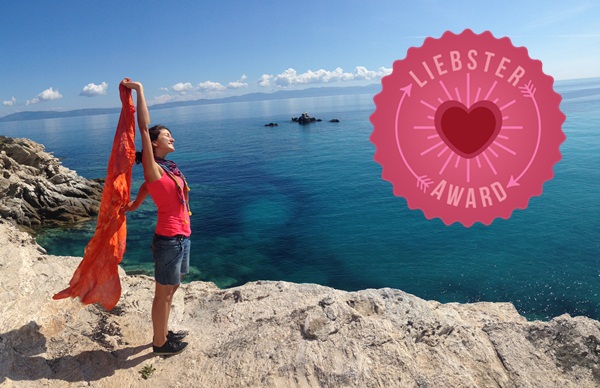 I am so exited! This is the first time I hear about the Liebster Award and look at me, I just got nominated for it :) 
What is All About ?
The Liebster Award is granted by bloggers to bloggers with fewer than 600 followers who they feel are "up and coming" and deserve some recognition and support to keep on truckin' – like a big bloggy hug and thumbs up!  This is a simply a way of getting to know each other and keep blogging.
What a nice thing!
The Rules
Write a blog post thanking the blogger who nominated you for the Liebster Award, and link back to his or her blog.
 Answer the 11 questions that your nominator asks you.
 Nominate 5-11 bloggers of your own, with under 600 followers, who you think are awesome and deserving of this honour.
Create 11 questions for your nominees.
Display the Liebster Award logo on your page.

List these rules in your post. (You can copy and paste them from here.)
So, many many thanks to Natascha and Patrick from Patascha's World  Blog for this nomination. I really like your blog guys and especially your passion about geocaching :) Hope that you will find my caches one day :) Keep Rock!
My Answers to Patascha's Questions:
1. Do you prefer city trips or nature? Why?
It depends, but most of all I love the nature! I have been to many cities and sometimes I get bored of them, especially in the big European cities.
2. Where was your worst night spent and what happened?
The worst night I spent in a night train travelling 8 hours across Bulgaria to get to my home city. It was November and the heaters weren't heat at all, but blowing cold air. I was feeling the cold winter wind outside, hot. For first time I put all of my clothes from the backpack and still was freezing.
3. Is a rental car a too expensive way for you to travel? If yes, which transportation do you prefer?
It depends where I am travel. In the US the price is acceptable, but in Europe renting a car is not on my budget. That is why I prefer the low-cost airlines and the bus transport.
4. What is your favourite destination and why?
The Balkan countries! Here you can find amazing places – cities, beaches, mountain views, etc.. It is so different and interesting, but I feel home at the same time.
5. What was the oddest food you've eaten?
I think that it is still ahead of me, because I never been to the Asian countries. And I am vegetarian :) Till now the oddest food I ate was probably a ketchup ice cream in Slovakia.
6. What was the most dangerous situation you've ever been involved in?
I was couchsurfing by myself in the U.S. almost a month :)
7. Did you ever needed medical treatment during a stay. If yes, in which country and what happened?
Yes, I got an allergic rash during my stay in the U.S. I was in the emergency room for an hour and it cost my insurance company about 350 $
8.Hostel or suite?
Both, but I love hostels. They have some special energy I really enjoy.
9. Your best memory of a stay…
Pff, not one but hundreds good memories every time.
10. What do you collect? (Because everyone collects something)
Maps!
11. Why do you travel? 
Travelling makes me alive and help me to understand the surrounding world and know myself better.
And here are my nominees:
@SavvyBackpacker – The Savvy Backpacker
Lifeswanderlustcom (facebook)  – Lifeswanderlust
@CarolynEmigh – Karolinkabulgaria
@TChronicle – Travelchronicles
 @Karthiknomad  – Shauddinkarthik 
@Backpack2gether – Couple of Backpackers  
@TravBlogger – Travelling Blogger
@Traveolani (facebook) – Traveolani
Here are my questions for you:
Do you travel because of any sports (surf, ski, etc…)?
Which is the longest distance you go through hitchhiking?
Have you ever travelled to Bulgaria or any Balkan country?
Which is your dream destination?
Travelling alone or with friends?
Which is the place you visited and you'd like to come back again to as soon as possible?
What was the best souvenir you got?
What types of travel guides do you use? (websites, books, etc…)
Which is your favourite websites for purchasing tickets and accommodation?
Why you blogging?
Blogs which expires you?
Wish you fun and smiley travels :))))