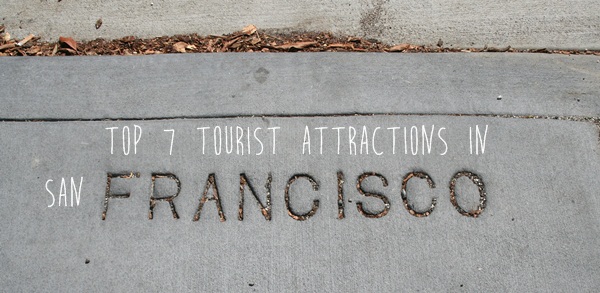 Fancy being in the midst of rolling hills, smiling faces, celebrations of imperfections? San Francisco is your next destination to be. San Francisco is irrefutably one of the best cities of the United States power packed with rich history, beaches, parks, restaurants, museums and infinite entertainment places. San Francisco, a home to many artists, musicians and liberal thinkers, has some of the most notable attractions.
You get to do and feel all kinds of things in this city. Although there are more than 7 popular and must-visit tourist attractions in San Francisco, only 7 best and infamous tourist attractions have been listed here, keeping in mind the time constraints.
Here are the top 7 attractions of San Francisco!
1. Golden Gate Bridge
The Golden Gate Bridge is one of the most extensively visited bridges in the whole world, thanks to its wonderful architectural design that helps in clicking amazing photos. By the way, this particular bridge is also the most photographed bridge in the United States. The orange structured backed by the blue ocean gives a splendid view of the overall view. The bridge also has a rich and unique history to itself. Ideally, if you want to whole-heartedly absorb the feel of the bridge, walking, or even bicycling is advisable. However, if at all you have less time or health concerns, drive over the bridge and don't forget to stop by some of the vantage points for breathtaking photos.
2. The Infamous Alcatraz Island
I don't think this article would do enough justice to San Francisco city, if I do not mention the notorious Alcatraz Island. The Alcatraz Island on the Californian Bay is the most heavily visited island on planet earth. Once upon a time, it was America's most popular prison housing hardcore prisoners, including Al Capone and the "Birdman". You can visit this island without the help of San Francisco custom tours. It is, however, not recommended since fetching tickets for the ferry and entrance of the island on your own is next to
3. Telegraph Hill
San Francisco is small as far as land space is concerned. The city has around 44 hills, and Telegraph Hill is one of the most popular hills of all, it is, in fact, one of the original 'Seven Hills' of San Francisco. Telegraph Hill is perhaps the most inconspicuous tourist attraction not known to many. Even vans and buses are not allowed on this hill. The hill will be of a particular interest to you if you like admiring the lovely architecture and scenic beauties. Do visit the 'A Coit Tower' atop the hill.
4. Cable Cars
Don't forget the Cable car rides as they offer a great platform to explore the city in historic fashion. The cable cars will get you through all major attractions such as Nob Hill, Fisherman's Wharf and Lombard Street. You may have to wait in a long queue to buy a pass for the ride.
5. North Beach
North beach isn't a beach, in case if you are wondering! North Beach is a marvelous Italian quarter wherein you will be drawn to the European styled romantic walks, and the tiny cafes in the corners of the street. North Beach, also known as Little Italy of San Francisco, provides its tourists exclusive excellent Italian food and poetry.
6. Cruise The Bay
Hopping on a Californian Bay cruise will offer you a unique platform to admire the beauty of San Francisco's skyline, ports, harbors, and marinas. Your boat will be passing through some of the most peculiar and amazing sites such as Fort Mason, Maritime National Park, San Francisco's Piers, Angel Island, Alcatraz Island, and Treasure Island. Get in touch with a local tour and travel company, and get a good deal from them.
7. Chinatown
You might be wondering how come Chinatown is making to the top 7 list of tourist attractions? Chinatown in San Francisco is much different to Chinatown in other cities. San Franciscan Chinatown is the oldest and largest of its kind in North America. With temples, theaters, workshops, stores and souvenir shops, it has become a heavily visited tourist place. In fact, it is so popular among the tourists that many private tour companies have started including this site in one of their San Francisco day tour and half-day tour.
Dive in and get the most unforgettable experience of your life. San Francisco is enthralling and endearing at many levels. Clearly, not to be missed!
Author Bio: Hi, I am Amber Clark. Traveling excites me and this is the only thing I am passionate about. Since a couple of months, I have been living a homeless life and believe me I am loving it.