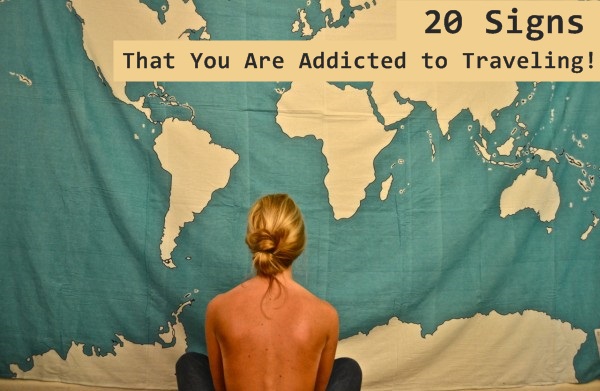 I love to travel just like everybody else… but I also like to come home after long journey. However, some people turn their passion for travelling in an obsession. If you really, I mean, really love to travel during all the free time you have, this article is for you! Read the 20 signs below and find out if you really are addicted to travels like everybody says!
The list that you do before you leave is 4 pages long.
Going home is more like a vacation between the journeys.
On your way home you are already making plans for your next trip.
When you go home you immediately start searching tickets on the websites of low-cost airlines.
Staying at one and the same place for more than a week makes you cranky.
When you are watching movies you want to be the characters.
As you are reading you feel a desire to travel.
The music makes you dream about journeys.
Every day brings you an idea for ​​different destinations.
You work to sponsor your next trip.
The signs from 5 to 10 make you feel imprisoned.
You always take the initiative for a journey yourself without waiting for anyone.
Thinking about all the places that you haven't been makes you feel excited but also slightly sad.
When you are not travelling, you imagine various situations that can happen to you while travelling.
You say you can stop travelling whenever you want, but you know that it is not true.
You feel most happy and genuine on the move.
Want to make a world map tattoo on your back.
You realize that you have become very good at geography and history of different places of the world.
Booking a flight makes you feel amazing.
Many of your colleagues and your friends think you're crazy.
Now, please tell me why you love to travel that much?
But first check out my travel tattoo ideas here >>>  http://www.adventureflair.com/travel-tattoos-ideas/