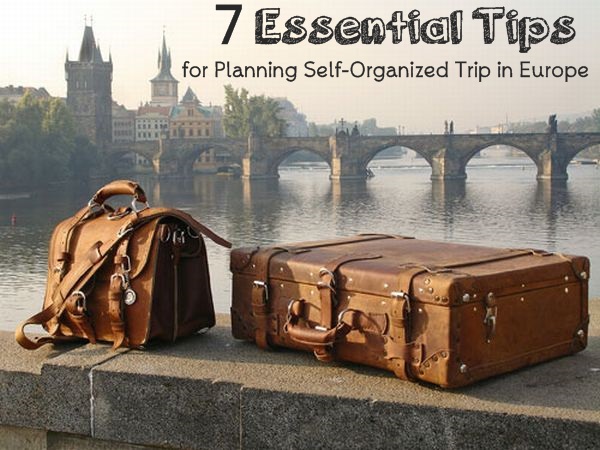 The project "Europe – independent travel for the cautious and the brave" talks on how to travel advantageous and economical in Europe. Besides, that will be interesting with an element of adventure and benefit. Today I suggest you to start preparing for the new travelling season in Europe, which for some of you will start from the upcoming holidays and for the others – the next summer. For the starters I decided to make a summary of the 7 most important questions you need to consider when planning a trip to Europe. Check if you are prepared for each of them at least in theory.

 1st step – search for cheap flights
Because there is no other way you could get easily to Europe (you can travel around Europe by bus or train but it will take more time) cheap airline tickets in the European countries guarantee the success of your self-organized trip. Here you can find out how, when and where to search for cheap airline tickets – http://www.adventureflair.com/category/tickets/
2nd step – planning the journey
Plan your overall way of travelling. Whether you travel by plane, train, bus or even hitchhiking. This must be clear especially if you are limited in time.
3rd step – get ready for the trip at home
Find a really good and useful guide for the country or the city where you plan to go. You may have already convinced yourself that many guidebooks are money down the drain. They state either outdated information, or everything is written so boringly that you even don't want to read them. And the travel guide or the information on the Internet is your first source of knowledge about the city where you will go. What to see, where to definitely stop, where there's no point to go, which museum to visit, where to have a walk are questions, the answers of which you should know before going to the city of your dreams. Where and how to find quality information? Trust the opinions of other travelers – check the reviews and the online reports of existing guides. In general take time and explore the available information about the city and the country. Don't be shy to ask other people who already were in Europe. The best place is the Lonely Planet Travel Forum.
These are my favorite travel guides for Europe which can help you to organize your Eurotrip
4th Step – Consider the costs of the food at the place where you are going
You shouldn't ignore this point, because it often happens that you have booked the cheapest airfare and hotel, and when you are at the place it occurs that the restaurants and the cafes are 'eating' the entire sum, saved from the transport. Eventually this is not a bad option, but it is better if you know in advance how much you will spend on food during your trip.
5th step – choose hotels according to the combination of comfort and price you require, rather than how distant they are from the Eiffel Tower
I personally always treat the hotel issue quite simply – I need the hotel room to take a shower and sleep. I could not even watch the local evening news – that's not why I'm coming to Europe. So I always choose hotels with minimum necessary amenities for maximum economy in price.       There are many ways to find cheap accommodation in Europe. Of course, you may have other priorities – for example you may have dreamed your whole life for a dinner on the balcony of the hotel overlooking the Brandenburg Gate. If so – do not skimp! Dreams have to come true!
6th step – choose to visit not only the most famous and therefore most expensive cities and places, but also the less known, yet not less interesting and inexpensive towns and places
I think this is a very sound approach. The best way to discover Europe is exploring it by yourself, where discoveries which are not written in the guide books await you with each step you take. In this way of getting to know the countries and the people you will find exactly the secret peculiarities of the nations and the charm of the European cities. Any place will become for you in its own way 'native' and familiar. What could be better than having such places throughout Europe?
7th step – Why not going to Europe between two seasons?
Everybody who wants to see as much as he can, and to spend as little as possible need to ask himself this question. This is the reason why traveling between seasons is a very good option to skimp on transportation and hotels. Many hotels and airlines offer different prices for 'high' and 'low' travel season, so consider whether or not to take advantage of this option.
You can share your own tips for traveling in Europe in the comments! I will highly appreciate that :)