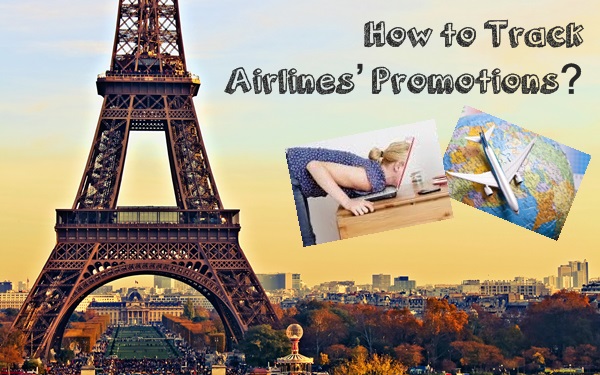 As I have already mentioned cheap tickets could be found at any time of the year for the most destinations. However, if you want to find them, you must put a little bit effort. Often this results in a long time spent in front of the monitor in search of good deals. In this article you will learn how to track promotions of the airlines in order to obtain the desirable cheap airline tickets. 
1. Subscribe to newsletters from all major low-cost airlines flying from your city.
Unfortunately, not many different low-cost airlines are flying from/to Bulgaria. However it is not such a bad idea to register accounts on their sites, because sometimes they provide many interesting offers from Istanbul, Bucharest and other close locations, which are easily accessible by car. I live in Sofia and I am subscribed to the mailing lists of: Ryanair, Airosuit, Wizz Air, Lufthansa, Bulgaria Air, Air France / KLM, Airlines, IBERIA, etc… These are the ones that interest me. Global airlines usually offer promotions, which apply in a particular region, so it is not enough to simply "like" the pages of low cost airlines on social networks.

This exactly is the right way to learn first about the shares of airlines. Let's take Ryanair or AlItalia for example. They never offer anything interesting about Bulgaria, but in contrast, have a lot of promotions for the rest of the world. If you don't want to fly anywhere, just delete the email, but almost all of my trips start with an interesting proposal for promotional tickets. After all, the world is huge and almost all of it is created for travel, right? :)
Of course, promotions are different. Lufthansa airline regularly offers a lot of nice tariffs for Mexico, South America, Asia, and sometimes in Africa and Europe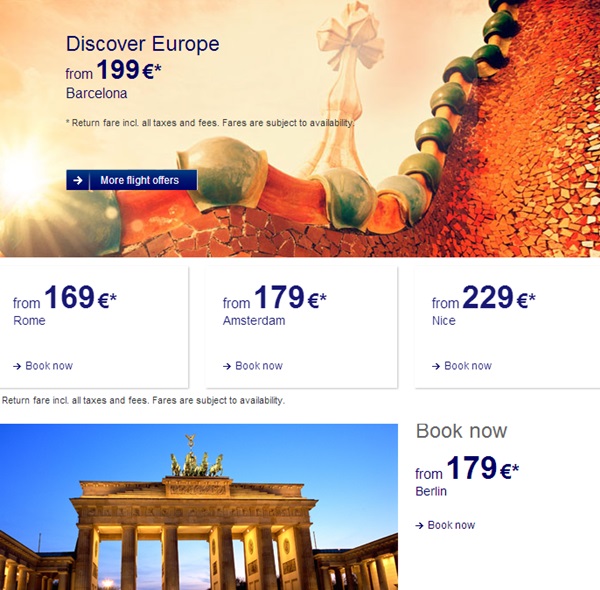 From Europe to the United States (especially to New York) you can usually always fly for 500-700 dollars, except during the summer peak load period and during work-and-travel from 15 April to 15 September.
In West Africa – the former colonies of France – there are virtually no promotions because these destinations are usually connected with Europe by one or two airlines.
2. Follow the thematic sections of the forums, read the news sites of tourist companies, follow lists of flights search engines etc.
You will find some unexpected news and promotions of airlines that you have missed firsthand, interesting findings of other users, etc.
3. Once you've looked long for some destination, or you have flown with a certain airline, then, a few months afterward you will see Google advertisement with the banner of the same company.
What to Pay Attention to
Check whether the tariff is entitled to a refund of or not, if so, in what conditions, and how big is the fine?
Is there a fine for failure to appear on takeoff?
Example: Sofia – Frankfurt – Singapore and Singapore – Frankfurt – Sofia. In this case you will not be able to drop by in Frankfurt when going to Singapore and your ticket will be annulled.
Layover – stay at transit point within 24 hours. Usually, this is free.
Example: You are planning to fly from London, to Bangkok through Istanbul, Turkish Airlines has two flights per day to the city. In other words when choosing a flight you can plan your route so that you arrive in Istanbul on the morning flight, take a walk in the city during the day and fly the evening instead of choosing a short stay.
Consider this option when selecting travel routes. This is a free opportunity to at least have a cup of coffee overlooking the Bosphorus. :)
Stopover – stay at transit point for more than 24 hours period. This option can be paid or free.
Example:  Emirates Airlines provides the opportunity for free stopover up to 96 hours when flying through Dubai. Certain fares provide for a paid stopover (it usually cost 50-100 dollars), i.e. this is an opportunity to stay a while at the transit point on your way. This might be an excellent idea for combined route.
What Are the Bonus Programs of the Airlines?
These are programs of one airline or alliance, which allow you to collect miles for flights and other services.

My Advice:
Always examine the conditions of the bonus program before the flight, even if you use the airline for the first time.
Register and show the number of the person upon registration at the airport and / or during the online registration.
Get familiar with the list of partners (hotels, companies providing car rental, TravelSIM etc.). You shouldn't give up nice bonuses just because you are not aware if them. Your free flight may occur way more possible, than you think.
Find out if your airline is a part of some aviation alliances, because their programs are mutually compatible. But make sure to ask for this before entering your personal number in the booking. Because it is better to direct in advance your miles to the airline in which you have the most miles or where conditions for the retention of the miles are the best.
In some cases, your miles have indefinite storage time, in other cases they have to be used once every 2-3 years, or you have to travel with the same airline for the retention of the bill.
Internal flight usually takes 10-15 thousand miles for flights in Europe – 20-30 thousand, for Transatlantic flight – 50-70 thousand. Accumulation and use of miles is subject to a separate post, it is a very interesting opportunity.
Other things you need to know before purchasing a ticket:
Find Out How to Buy Cheap Airline Tickets by Yourself  in
Five Easy Steps
Step One – How to Find Out Which Airlines Fly to/from a Certain City?
Step Two – How to Track Airlines' Promotions?
 Step Three – Where to Buy Cheap Airline Tickets
The Main Factors, Which Lower the Tickets' Price:
Luggage

Additional services