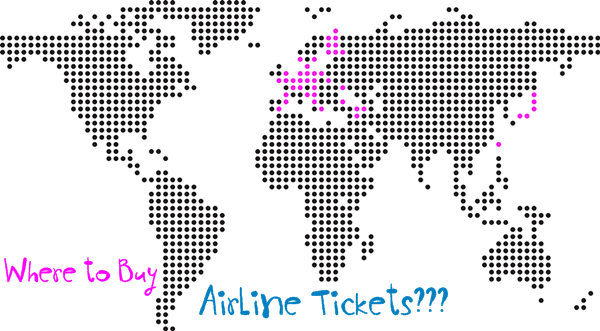 Low-cost flights tickets can be bought from various places. Find out which are they and what are their advantages.
 1. Airline's cash desk.
Usually the cash desks of the airlines take between 30-100 euros commission fee for their services. In short, the modern people just don't use this method to buy air ticket
2. Travel agency's cash desk.
At travel agencies there is an opportunity to search really flexibly for tickets within the global reservation systems 'Amadeus' and 'Galileo.'
Global reservation systems were invented long ago precisely to serve travel agencies and ticket counters since the time when there were no online sales. Almost all low-cost airlines are not represented in these reservation systems. This is another way to cut their costs.
Flight search engines are somewhat like online agencies, which are also included in the reservation system.
Sometimes you can't buy a ticket for certain destination from the website of the airline, while from agency this is possible. (For example – this applies for the most flights of Mau and Etihad airlines).
Sometimes agencies have certain agreements with airlines and it is cheaper to buy from them rather than directly from the website of the airline. So keep in mind this option.
At travel agencies you can purchase both tickets for scheduled flights and 'hot' seats available for charter flights.
3. Internet
I usually buy tickets directly from the website of the airline. In this case, in the event of any problem I know I will have to deal straight with the airline rather than with a mediator.
Low cost airlines sell tickets only on the Internet. Their flights are not included in global reservation systems therefore they are not represented in most search engines.
List of low cost airlines operate in Europe
Usually I use such portals only to search for tickets until I've encountered a situation in which the value of the tickets I found was significantly lower than buying directly from the website of the airline. But, as seen from forum posts, such cases are not rare. You can find detailed information on such flight search engines here.
Find Out How to Buy Cheap Airline Tickets by Yourself  in
Five Easy Steps
Step One – How to Find Out Which Airlines Fly to/from a Certain City?
Step Two – How to Track Airlines' Promotions?
 Step Three – Where to Buy Cheap Airline Tickets