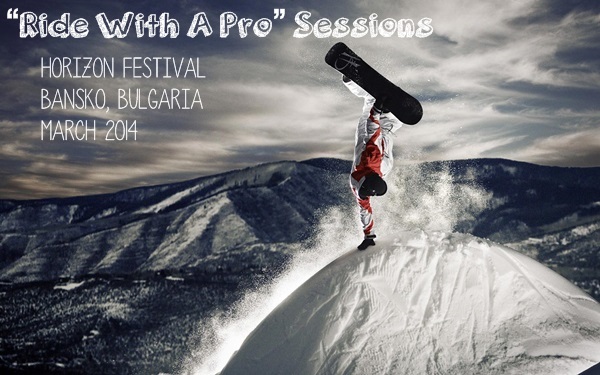 Horizon Festival are pleased to announce a new offering for festival attendees in 2014; Pro Snowboarder, Seb Kern, is bringing out a team of top boarders and skiers to offer 'Ride With A Pro' sessions for festival goers.
Have you ever wanted to know how to perfect your Shifty, how to approach a rail or learn some new grabs?  For only £20, you and your mates can book a session with professional riders to work on your airs, grabs, slides and spins at the specially constructed Horizon Snow Park.
Trick Tips sessions will kick off with a demonstration from the pro riders (to show you how it's done!), followed by an overview of the snow park. Seb and his team will breakdown each element, showcasing box, rail and jump tricks.
After assessing each participant's ability, the group will then be split into smaller teams, each manned by a pro rider. Participants will have their say on what they'd like to focus on in the session and each group will have a go on suitable snow park features and select tricks.
Designed by The Secret Hotel and veteran park builder Mikee C from For Boarders By Boarders, with input from the Pros, The Horizon Snow Park will consist of rails, boxes and jumps of varying levels, for the best progression in learning and improving your skills. Each Trick Tip session will last over an hour and will be a great way for people to improve their riding; both guys and girls who have been riding for many years, as well as beginners looking for some ideas that they can then take to the hill and play around with in their own time.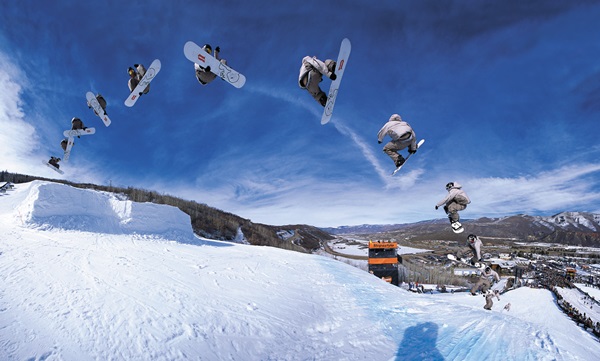 Horizon Festival's 'Ride With A Pro Sessions' are about riding with friends & having fun on the hill. Pro riders will be there to offer as much or as little advice as people want & sessions will run each day from 10am to 3pm. Group sizes will be kept small and manageable with each group no bigger than eight.
Sessions can be booked in advance through the Horizon Festival website– go to www.horizonfestival.net for more information. Any remaining sessions will be available to book and pay for when you pick up your Festival pass.
A unique mountain festival, Horizon 2014 offers the best value snow festival around; Prices start at only £279pp for 6 days and nights of cutting edge electronic music across 30 incredible parties at 20 unique venues, 6 nights of accommodation with pool or spa use and 5-day ski pass with access to the whole mountain.
A forward thinking music festival, Horizon presents a broad spectrum from the dance genre including House, Techno, Garage, Bass & Groove.  The line up incorporates many trailblazers on the underground scene, as well as those more established acts who offer a nod to the heritage of dance music. The line up already includes big hitters such as Kerri Chandler, Bondax, Âme, Andreya Triana, Roy Davis Jr. KiNK, Catz'N Dogz, & Phaeleh.
Horizon 2014 also offers free daily yoga classes, Non skiing options & Spa packages for non-skiing other halves and discounted ski/snowboard lessons for your newbie mates. There's also The Bansko Banquet, a chance to meet your festival peers across a table heaving with the best food and drink in town, as well as further secret one-off parties still to be announced.
The mountain itself is the perfect snowy playground for all abilities, with something for everyone in the terrain department, barely any lift queues, & affordable hire prices. Bridging the gap between high-end ski festivals and a classic British festival; Horizon Festival guarantees 75kms of slopes at heights of 2,600m, no mud, affordable prices, and an incredible atmosphere.
Think it's too good to be true? Come and see for yourself.  
For more information about Horizon Festival, please visit:
Website: http://horizonfestival.net/
Riders Biographies
Seb Kern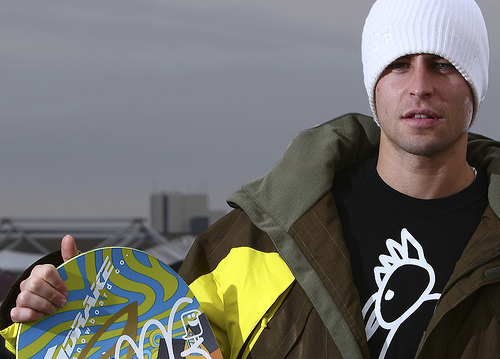 Hailing from Sussex, England, Seb lives and rides in Breckenridge Colorado and travels all over Europe for various events, competitions and team shoots.   Seb has featured in the famous Lockdown Projects Snowboard films in the UK as well as numerous productions in the US and Europe and is the brother of Olympic hopeful, Nate Kern, one of the UK's best snowboarders. He also goes by the name of DJ Socom and DJs at events around the world including Horizon and Outlook Festival
Seb is sponsored by DC Shoes UK, Drake Europe, Smith Europe, Contour Cameras, Route One UK, Spin4, Meglad and Forcefield Protection.
More of a film rider than a comp rider, Seb has none the less has some strong results:
5th the British Championships big air 2011
6th Brits big air 2008
Best style, Burton High Five Tour 2007
Top 10 in Big at the Brits Championships between 2006-2010
Top 10 Breckenridge slopestyle 2008
Helen Fox, Scotland, UK: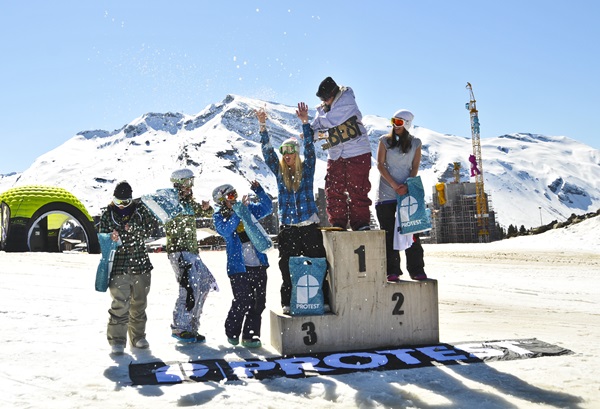 Originally from Scotland, Helen has been snowboarding for 10 years and, after attaining sponsorship from Ride Snowboards, Dragon, 32 and Syndicate Clothing, she has been competing in the UK and Europe for the last 4 years. Her home Snowdome is Braehead in Glasgow although she's spent the last two seasons in Breckenridge, which Helen reckons might just be one of the coolest places in the world for shred.
Helen loves riding all park but rails are her absolute favourite. A true lover of the snowboarding lifestyle, Helen comments "I've met so many good people over the years, laughed so hard, smiled a lot and seen so many amazing places. I love it!"
Key results in recent years include:
Scottish Indoor champs – 2nd – Feb 2011
Chapelle AM Avoriaz – 1st – March 2011
Lucky Tricks 2*TTR Flaine – 1st – March 2011
Volcom Rail Jam Cairngorm – 2nd – April 2011
Chapelle AM Avoriaz – 1st – Jan 2012
Chapelle AM Avoriaz 1st – March 2012
Scottish Indoor Champs 2nd – May 2013
Maria Prusakova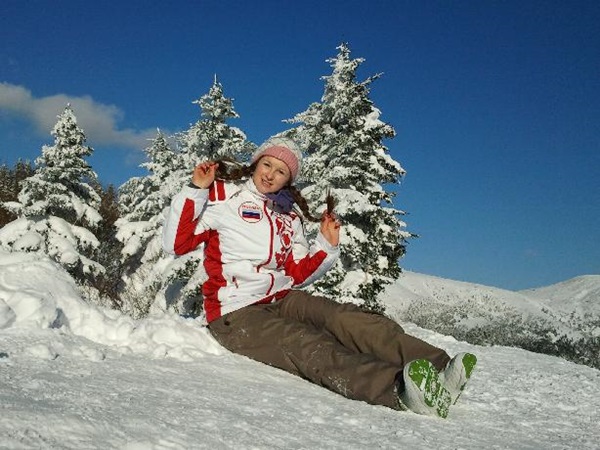 Maria is a 23 year old Russian, living in France. Maria is a snowboarding coach specialising in freestyle, boardercross & slalom. When competing, Maria was sponsored by the likes of O'neil, Volkl, Rossignol, Dragon & Betty Rides.
Results includes:
Triple Champion of Russian Federation in half-pipe -2007-2009
Participant of Olympic Games Turin (youngest in Half Pipe discipline) – 2006