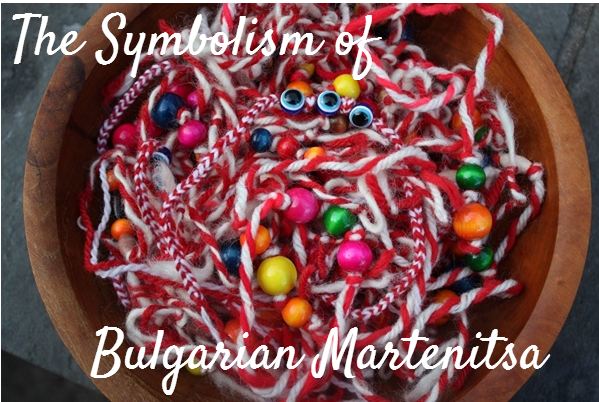 Martenitsa (Bulgarian red and white bracelet) is a small piece of adornment, made of white and red yarn and worn from March 1 until the appearance of the first blooming tree or the first stork. This tradition make 1st of March one of the most Bulgarian customs ever.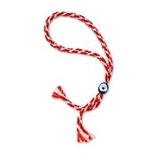 Bulgarians decorate themselves every year on March 1 – holiday of "Grannie Marta" (Baba Marta or Баба Марта). This custom is considered unique Bulgarian tradition.
The white color is a sign of beauty, symbolizes purity, innocence and joy. The red one is the color of vitality, health and love, victory, life and courage, the light of a rising or setting sun. This color according to popular belief, has the power of the sun and gives vitality to every creature. 
There are many interesting customs and traditions related to Bulgarian martenitsa.
In some parts of Bulgaria people use different colors instead of white yarn
In the town Razgrad at sunrise every housewife throwing red fabric on one of the fruit trees in the garden, "to laugh Baba Marta."
In Trojan on 1st of March before sunrise mistress of every house tied red wool locks, fruit trees, in the horns of cattle.
In Haskovo grandmothers, who earlier tie martenitsi on children hands, get dressed entirely in red color.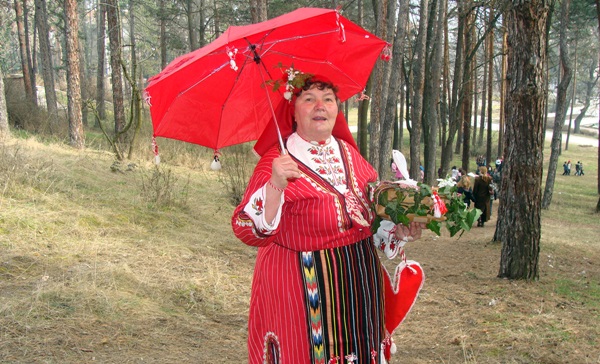 Contrary to popular opinion, that martenitsa is original Bulgarian "invention" Romania and Greece, have something different to say.
Greece
Greek ethnologists connect this custom with many ancient pagan history of the Balkan Peninsula, especially with the agricultural fertility cults. Martenitsas (μάρτης) in Greece are preserved only in the high mountain areas far from major urban and cultural centers.
Usually in small villages in Greece grandmothers tie martenitsi (μάρτη) to small children's hands to be healthy and happy all year long. In general this custom is forgotten in the big cities, but around the Universities and the places where young people gather, you can see smiling boys and girls with red and white bracelets around their wrists.
Romania
Martenitsa ("mărțișor" in Romanian) is an ancient symbol of an ancient scenario for the revival of nature on the cusp of spring. This ancient custom, according to tradition, is related to the time of symbolic death and symbolic birth of a local female deity – Baba Dokiya. Martsashor is also the name of March in Romanian language.
Macedonia.
Macedonia
I asked some Macedonian friends about that custom. Most young people under 22 years, didn't know what does Martenitsa means. Some adults were heard about it and most of the people over 38 / '40 said that this tradition has remained in the past, and increasingly few people think of it.
There is no such a tradition in the other part of the Balkans
Martenitsa Symbolism
The holiday is a symbol of a new season – spring and rotation of the natural cycle. Baba Marta is the personification of nature in the stage of early spring – erratic, unpredictable, easily changing. Some of the specific features of the ritual in the beginning if may and especially tying the twisted white and red woolen threads to suggest Thracian Hellenic, even to Roman origin.
In the end of March you can see many trees adorned with red and white bracelets in Bulgaria. The tradition is that when person who wear martenitsa see blooming tree to tie it on a branch.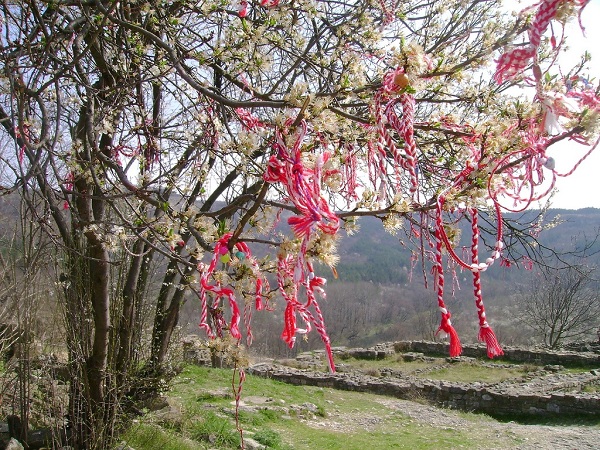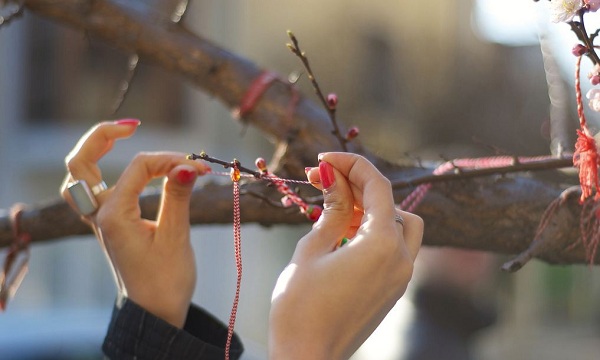 How to make your own martenica:

If you don't have time or yarn to make Martenitsa(bulgarian red and white bracelet), share this post on Facebook or Twitter with your friends and wish them and their families health, joy and smiles.  But before doing this, please tell me do you have such amulets and stuff in your country? And have you ever worn Martenitsa before?