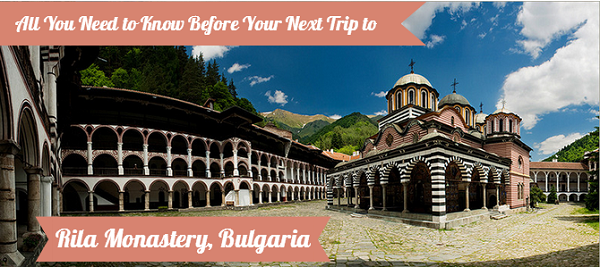 Rila Monastery – the biggest monastery in Bulgaria is situated at an altitude of 1174 m above the sea level. Because of its impressive architecture, valuable frescoes and icons Rila Monastery proudly takes its place among the 9 tourist sites in Bulgaria included in the list of UNESCO World Heritage since 1983.
Before You Go
Bring a long sleeve clothes! Do not except the Rila monastery like a tourist attraction where you can do whatever you want. After all this is a Holy place and should behave yourself. That's why is good to bring a long sleeve clothes or for example scarf to cover your arms during the hot summer days. Except that the Rila Monastery is located high in the mountain where the weather can change in minutes even in the summer.
If you decide to visit the Rila Monastery during the hottest mounts (July and August ) better bring your sun protector cream, because the sun in the mountain can be really strong sometimes.
How to Get to Rila Monastery
The Rila monastery is located in the western part of the Rila mountain, only 117 km away from the capital Sofia, 84 km from Kyustendil, 223 km from Plovdiv and almost 95 km from Bansko
How to get there from Sofia
Rila monastery is located on the main road Sofia – Kulata (E79). To get there you should drive almost 2 h in direction Sofia – Pernik – Dupnitsa. After that you should take left on the exit to Cocherinovo (Кочериново) village. The road to the Rila Monastery from there is about 30 km and leads straight to the monastery gates.
There is also a bus from Sofia to Rila Monastery. It departs from "Ovcha Kupel" bus station at 10:20 AM every day. It cost 12 leva (6€) and will take you staight to the Rila Monastery.
Rila Monastery from Plovdiv
Rila Monastery Tour from Plovdiv with Thracian Roads.
If you are traveling from Plovdiv get on Highway "Trakiya"/A1/E80 towards Sofia. After almost 75 km you should take the exit to Ihtiman (Ихтиман) – Samokov – Dupnitsa and Cocherinovo. There you will see a sign and after a left turn, must drive 30 km before you get to the Rila Monastery gates. The itinerary from Plovdiv to Rila Monastery is 223 km and will take you about 3 hours driving.
 Rila Monastery from Bansko
It really easy to get to the Rila mostery from Bansko. The view along the way are really beautiful and the trip will take you only 1 h 30 min. The direction is Simitli – Blagoevgrad – Cocherinovo, where you should turn right and drive more 30 km to get to the monastery gates.
Take a brake! If you are not in a hurry my advice is to take a coffee break in Cocherinovo (Кочериново) village. There you will see something never seen before. On almost every building there is a stork nest and if you go there in the Spring or Summer you will see a hundreds of storks flying around. People there say that birds choose to live there, probably because in the past the village was surrounded by swamps and marshland.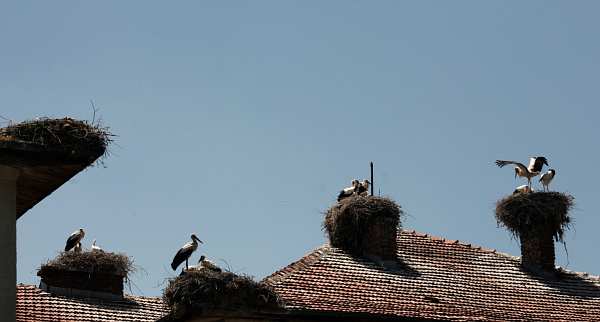 In front of the Rila Monastery there is paid parking for cars (4 lev. / hour), vans (6 lev. / hour) and buses (8lv./hour)
Rila Monastery Working Hours
Monastery gates are open for tourist seven days per week. The entrance you should pay is only for the museum and will cost you 8 leva / €4. The information is updated on May 2014
Important! Photos are not allowed in the main Church and in the museum.

Short History of Rila Monastery
The Rila Monastery was founded in the beginning of the 10th century by St. Ivan Rilski the site of an old hermitage in the Rila Mountains at 1100 m altitude. During its centuries-old existence he endured years of progress and destruction.
Around 1335 year the local lord Stefan Dragolov (Hrelyo) built a monastery on his present place, consisting of residential buildings, tower defense and a church. From these constructions only the tower, named "Hrelyova Tower" left today. On its top floor there is a small chapel richly decorated with frescoes, characterized by great artistic value and original iconographic qualities.
During the first decades of XІX century monastery complex was built in its present form, thanks to the efforts of several generations of prominent Bulgarian builders, painters and master carvers.
If you want to find out more about the history of Rila Monastery visit – http://bulgariatravel.org/Rilski_manastir
Frescoes/ Murals
Undoubtedly, the biggest treasure of Rila Monastery are the murals you can see inside and outside the church. The main one is decorated with more than 1,200 evangelical scenes made in the period 1840-1847 year by dry fresco – tempera, as solvent of dyes was used egg emulsion.
Places to visit
The are some places inside and outside the Rila Monastery I suggest you to see:
The prime Church
Museum
The cookhouse (kitchen)
Monastic cells
Ivan Rilski cave
The cave  which Ivan Rilski chose for his refuge is located about 4 km from the monastery. There is a marked path passing through the mountain which will take you there.
Take a brake again! If you get hungry during your Rila monastery tour, outside the monastery gates there is a bakery . The you will find fresh and hot homemade bread and the tradional Bulgarian "mekitsa", you should definitely try.
One day will be enough to visit Rila monastery from Sofia and all the cities in West and Central Bulgaria and go back again to your start point, but if you want to spend some more time in the mountain and National Park "Rila Monastery", there are many walking itineraries passing through. One of them is the international tourist route Е -4: Pyrenees – Alps – Olympus.
 Rila Monastery Accommodation
Is possible to stay in the Rila Monastery overnight if you want. However, remember that this is a monastery, not a hotel. This is a sacred place and you have to treat it with respect and honor. It is important to abide by the rules, do not smoke, do not fuss.
On the way back home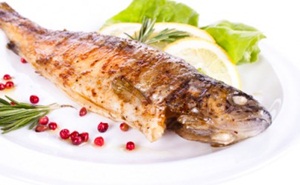 Not far away from Rila Мonastery, about 20 minutes driving, there is a restaurant called Горски Кът (Gorski kyt). There you can stop on the way back to take a rest and have lunch. I strongly suggest you to try the grilled trout!
Please, don't be shy to ask any questions about your next trip to Rila Monastery. I will be also happy to hear some of your personal experience about  that amazing place.